True pork enthusiasts have a treat in store for them at IGA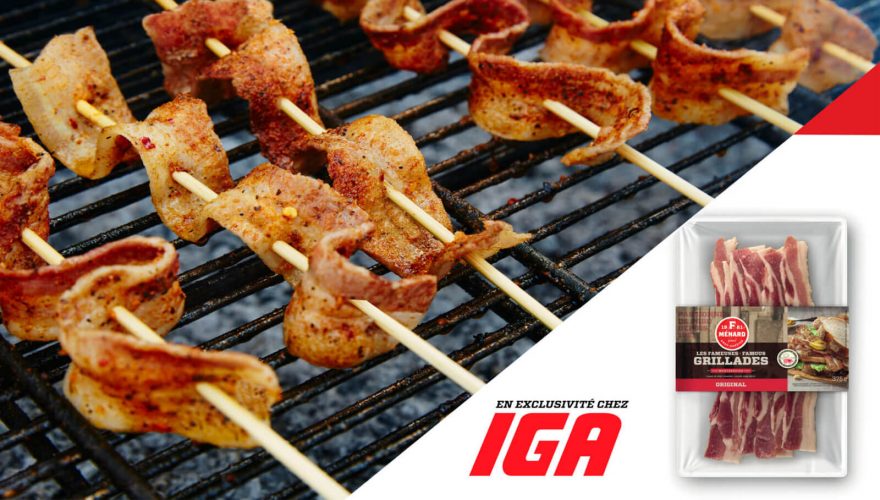 Starting May 25, Quebeckers will have the opportunity to jazz up their meals with four delectable F. Ménard creations sold exclusively in the province's 300 IGA stores. Unique and fresh, these top-quality, easy-to-prepare products are hitting the shelves just in time for summer.
The four 100% Montérégie-made products will be available in the butcher section at grocery stores. They are: pork "grillades" with Valleyfield-style spices, "famous" bacon, pulled pork and "mechoui" pork.
Are you a true pork enthusiast?
If you're the type of person who…
never compromises on quality when it comes to food
wants to know where your food comes from
loves life and enjoys gathering people around a good meal
knows that Quebec produces the world's best pork
is always on the lookout for tasty, healthy products and recognizes their value
purchases products from local family producers because you see it as a way of investing in the future
… then you're as much a pork lover as F. Ménard!
Innovating for quality
"A great deal is happening for us in the retail market," said Marylène Ménard, Sales Manager and a member of the third generation of the Ménard family to be involved in the company. "Our customers want to buy directly from the producer. They're looking for simple, premium quality solutions in the kitchen. And we're proud to meet this demand."
Since it controls every stage of production and makes animal welfare a priority, the quality of F. Ménard meat is unmatched. At F. Ménard, maintaining excellence in quality is a constant concern.
"Our products fully reflect the values of IGA's commitment to the joy of eating better. That means eating healthier, choosing local products, discovering new flavours and cooking more," added Ms. Ménard.
A FAMILY TRADITION SINCE 1961
With over 50 years of commitment and expertise, F. Ménard is now a leader in the Canadian hog production industry. F. Ménard is a family business specializing in hog breeding and pork processing. Founded in 1961 by Fulgence Ménard, the company, which is located in Ange-Gardien on the South Shore of Montreal, employs over 1,000 workers who strive to meet the highest quality standards in the industry, every day. This, combined with a modern, structured production approach, results in products of unmatched quality.